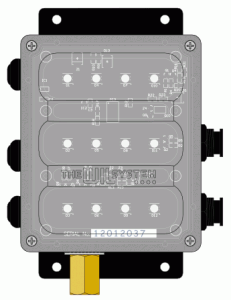 The WIL System is a Queensland Government award winning invention, built to measure the carrying weight of trucks easily and efficiently. Typically loading trucks to their nominal weight limit is an imprecise and ineffecient process that relies on a lot of trial and error with loading, weighing on a weighbridge and then reloading until the weight is correct. The WIL System solves this problem by adding a simple weight indicator light system to the truck/trailer that measures the load weight accurately as it is loaded, without ever needing to go to a weighbridge or reload the tray.
The load weight of a truck can be determined to a suitable degree of accuracy by measuring the pressure of the airbag suspension system. Although such systems exist, they generally have the weight readout located in the cabin of the truck or on a wireless pendant that is prone to being left behind (as it would have to be in possession of the loading operator during the loading process). The WIL System is installed in a visible location on the truck/trailer, and then indicates the load weight by changing lights to different colours and flashing rates, indicating when the weight is below nominal, nominal, or overloaded.
The Weight Indicator Light solution has been developed into the following product design. There are two basic model configurations, master and slave, which are further broken into variants depending on the installation requirements. The master unit is the "brains" behind the system and has the airbag suspension pressure hoses connected to it in order to monitor the pressure. Up to five slave devices can be daisy chained from a master unit and all will synchronously copy the display patterns of the master unit, which is useful for mounting on opposite sides of the truck for maximum visibility.
Winner of What's your big idea Queensland?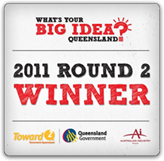 What's your big idea is a Queensland Government and the Australian Industry Group funded program for small to medium sized Queensland businesses with big ideas. The program awards innovation in developing a new product, process, system or business model that will create a big impact.
The WIL System is one of the winning big ideas from Round 2 of the program, receiving the prestigious Big Idea award as well as a grant from the Queensland Government & The Australian Industry Group to support the development of The WIL System.
The WIL System in the News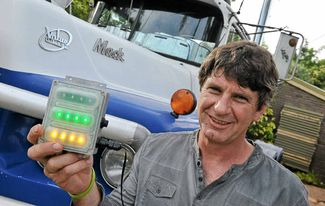 Whats the big idea? – Sunshine Coast Daily | 13th December 2011
BIG ideas? Innovation? Trailblazers?
The Sunshine Coast has plenty.
For proof, take a look at the entrants in the most recent round of the state government's What's Your Big Idea Queensland? competition that offers grants to help commercialise inventive ideas. Ross Mason owns RA Mason Transport, an Alexandra Headland-based recycled metal haulage business that contracts to OneSteel Recycling and has four trucks and four staff.
An auto electrician by trade, Mr Mason started in transport carting coal at mine sites in New South Wales, before realising a life-long dream to live in Queensland. He also did contract work hauling dirt and landscape supplies around Brisbane before the OneSteel contract came along eight years ago.
About two years ago, he developed an idea to enable a truck, or truck and trailer combination, to be weighed while being loaded.
"When you are hauling construction or industry materials, you often have no idea how much weight you are putting on," he said.
"And when you are loading per cubic metre, things like sand, gravel, dirt and clay all have different weights so it is very hard to regulate.
"And now hauling scrap metal, we have a lot of waiting time; and a lot of yards only have one weighbridge. You have to wait for customers, who take priority, and then go in and out to get loaded up and weighed.
"If you are over or under, you have to go back and take some off, or put some on. Sometimes, it can take three goes to get it right.
"This is time-consuming for not only the truck, but for the line-up of trucks waiting to get loaded. It also slows site production and creates unsafe bottlenecks.
"There are digital gauges on the market, but they're harder to read when you are loading with an excavator because occupational health and safety regulations mean you are not allowed near a truck while it's being loaded."
The patented Weight Indicator Light system is fitted to a trailer or prime mover. It has a circuit board and other components plugged into the truck's airbag suspension. The rising or falling air pressure in the suspension talks to the system, which can be calibrated to any desired weight, setting off three sets of LED lights on a read-out panel, placed in plain view of the excavator operator. Flashing or solid orange indicates you are close to your desired weight, solid green indicates you are spot on, while solid red means you are over the limit.
"We are also investigating plans to develop one for spring suspension which will be the first one of its kind in the world."
Mr Mason sought help from an electrical engineer at EE Solutions at Kunda Park to create a prototype.
They will be in his hands just this week before production begins early next year, thanks to the grant won from the State Government scheme. Mr Mason said that his partner Cate had encouraged him to get his invention patented. She is a Workplace Health and Safety Officer and believes workplace health and safety regulations are only going to become tougher.